Hello friends its Azeemsky here, The Club Penguin Community weekly Poll has been updated! This poll has to do with the recent event Rockhopper's Quest. It wants to know which island is your favorite at the party. Check it out below: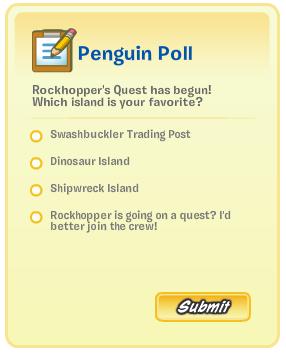 There are only four answers' you can choose from, here they are:
Swashbuckler Trading Post
Dinosaur Island
Shipwreck Island
Rockhopper is going on a quest? I'd better join the Crew!
I voted "Shipwreck Island". Leave a comment below on which one you voted for.
-Your Friend Azeemsky.