Club Penguin's sixth magazine issue is now out in the United Kingdom! This issue comes with codes for 3,000 coins, a Saxophone for your penguin, and also a code to unlock an item of your choice from the treasure book.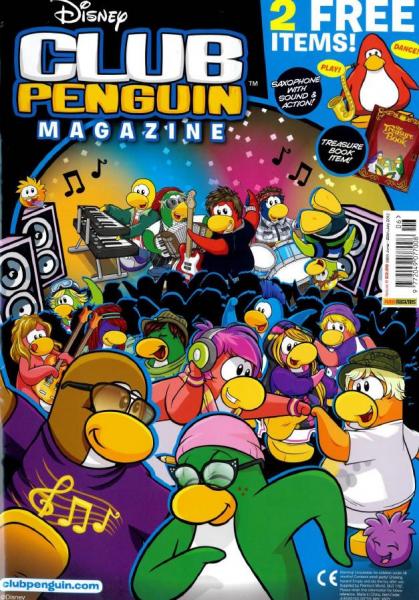 This issue contains the following, as provided to us by Bloxxerman:
Flipperazzi: Rookie
Puffle of the Month: Yellow Puffle
C.P.T.V!
Fashion 4 U: Pop Starlet
Invitation: Make Your Mark Ultimate Jam (begins July 19th and has pictures of Rocky and CeCe inside the article)
Penguin Comic: The Lost Demo
Cadence's Catwalk: Beach Ball
Penguin Profile: The Penguin Band
Penguin Challenge: Snow Trouble
Penguin Quiz: Suss Your Music Style
Penguin Comic: Race to the Topping!
Cool Cribs: Airplanes
Console Competition
Penguin Mission: Concert Crashers
Penguin Postcards
Penguin Challenge: Puffle Scavenger Hunt
Ask Aunt Arctic
V.I.P: Gerrard682
The next issue will come with the following gifts and content:
It's an igloo special
1,500 coins
5 free gifts
Comes with a Ninja Frisbee
7 day membership as usual
Roman Toga and Laurel Leaf Crown for your penguin
1 Treasure Book item code
Igloo Wars comic
Pizza delivery puzzles
Meet Rory
Funky furniture
Your outfits, pictures & letters
If you have images from the uk magazine, comment below or contact me on azeemskydc@gmail.com
-Azeemsky,